Engineered quartz is a mixture of grounded natural quartz and polyester resin. Such material has a close resemblance to natural stone in its outward look and texture, but it is non-porous and very durable. It is shock- and scratch-resistant, it doesn't mold or absorb liquids, it is easy to clean and maintain. This type of artificial stone can be used indoors as well as outdoors (in warm climates). The range of engineered quartz colours and patterns is very big, just take a look at the newest samples from these famous brands: 
Thin and elegant quartz surfaces look great as dining or coffee tables, console tops, windowsills. Quartz will definitely add to style and freshness of any space where it is installed. Since quartz slabs come in large sizes, the items fabricated from them will have just a few joints. To minimize the number of joints is especially relevant when cladding walls and floors, as well as installing large furniture pieces in public spaces, such as reception areas, restaurants, clinics, halls, bars. 
---
Beautiful and very practical quartz surfaces will turn your home into a real celebration. Just don't be intimidated by their luxurious look as this hi-tech material is easy to maintain. All you will need to do is clean your countertop and other horizontal quartz surfaces with water, soap and sponge. Liquids cannot penetrate into non-porous quartz worktops, so even spilled beetroot juice, red wine or curry paste won't stain them. You can forget stone sealers and stone waxes.
Engineered quartz is as hard as granite, but due to added resins it is less rigid than natural stone. In other words, quartz slabs are slightly flexible. They are also more resistant to scratching and other external impacts. The internal structure of engineered quartz is uniform, therefore quartz slabs do not contain hidden cracks or impurities that often occur in natural stones. Quartz slabs of the same type shall be uniform in colour and pattern. 
Engineered quartz is non-toxic and non-allergenic because it does not release chemicals into the air. Most quartz products have the Green Guard Environmental Institute certificate which ensures the lowest possible levels of volatile substances released into the environment. 
Another good thing about engineered quartz is that it is relatively resistant to heat (up to 150 °C), although this resistance does not compare to granite, marble or sandstone. Quartz can be sensitive to lower, but longer-lasting heat. If you accidentally place a hot pot on your quartz worktop, most probably nothing will happen. Just quickly remove it and don't do it on purpose. It is advisable to move pots from the stove onto trivets instead. If an open flame or a very hot object contacts engineered quartz surface in a fabricator's workshop or at home, the resins in the material can cause discoloration.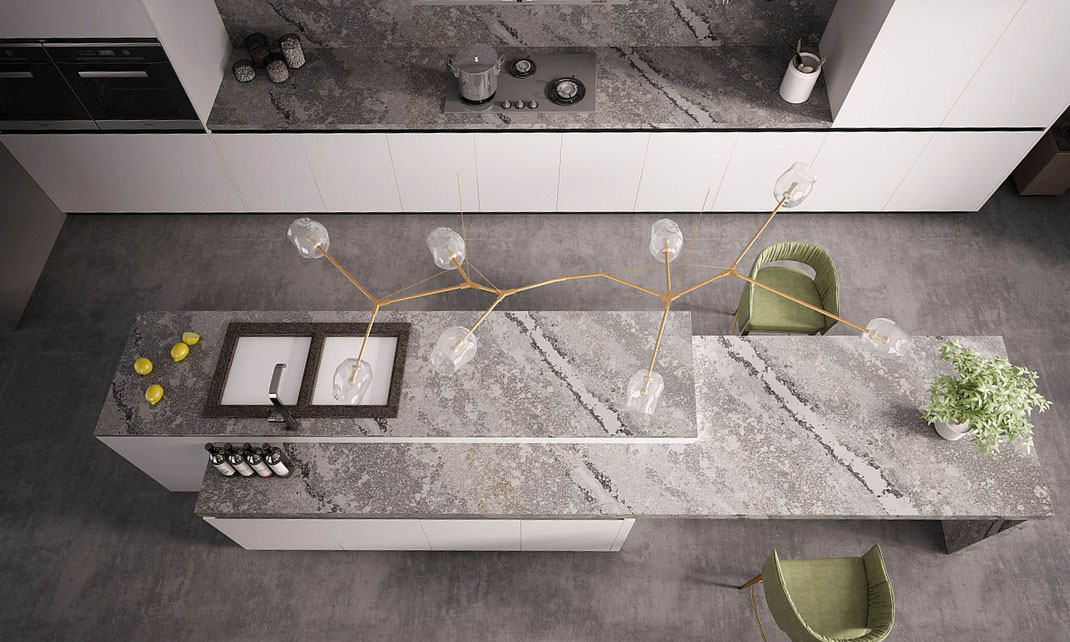 Engineered quartz colour palette includes hundreds of amazing stone-like patterns to suit modern, retro or traditional kitchens. Just note that glossy black surfaces will show all the fingerprints. The sink can be fitted underneath the quartz countertop, adding to the kitchen a tidy appearance. This is also very convenient, as no food crumbs will get stuck in the gaps when cleaning the worktop, and you won't have to scrape or brush them away. 
Quartz surfaces can have a good use not only in the kitchen, but in other spaces too. You won't want to take your eyes off your quartz windowsills or coffee table. Quartz paneled walls as well as floors will look fantastic too. As quartz slabs are large (approximately 310 cm long and 150 cm wide), even large items fabricated from them will have few joints. This is important when using quartz slabs in spacious reception areas, restaurants, bars.
It is important to note that although polyester resin binders give to quartz slabs some flexibility which prevents their cracking (due to bending or pressure), these binders gradually harden. This results in a quartz slab losing its flexibility over time. Polyester resins can be affected by ultraviolet rays, therefore artificial quartz should rather not be used outdoors. Continuous exposure to UV light can also cause discoloration and disintegration of the resin binder.
---
---
Engineered quartz is made from 95-97 % of ground quartz and 3-5 per cent of polyester resins and pigments. This mixture is compressed using a vibrating compressor. At the same time, the air is removed. The ground stone dust and resin mass is poured onto a moving belt, shaped, heated and vacuum-compressed at high pressure. The vibration helps to compact the mixture, resulting in an isotropic slab with almost no pores.
Finishing absorbents are also added to the mixture to inhibit the colour changes caused by the reaction of the polyester resin with ultraviolet rays. The cured panels are polished after 24-48 hours. Some companies import their own stone chips for their products, others buy already crushed stone powder. 
Engineered quartz made with unsaturated polyester resins has low water absorption, excellent chemical durability, remarkable hardness, and resistance to bending as well as temperature changes. These factors are superior when comparing to granite or marble.
---
Long life
Hygienic
Non-porous
Seams are visible
Non-toxic
Hard
Durable
Resistant to stains
Resistant to flame
Resistant to heat up to 80ºC
Resistant to wear
Resistant to UV rays
Easy cleaning and maintaining
No sealing required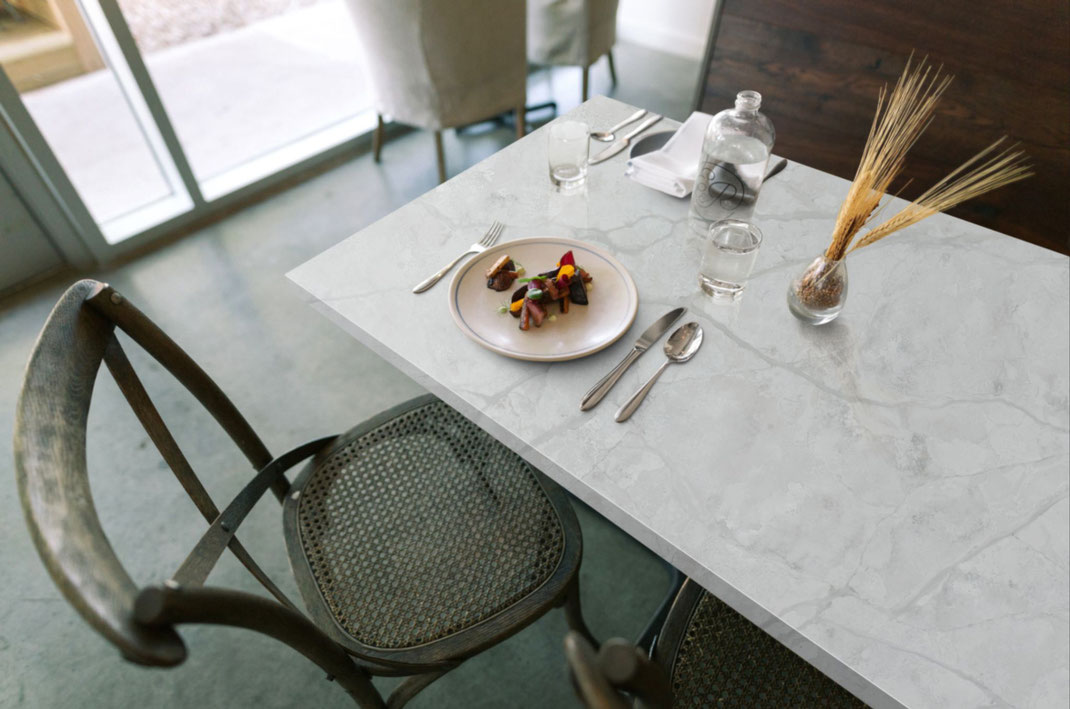 ---
Kitchen worktops
Bathroom vanities
Wall cladding
Window sills
Swimming pools
SPA and wet rooms
Stairs
Floors 
---
---
The maintenance of engineered quartz worktops is very easy. It is sufficient to wash them regularly with warm water and dishwashing liquid. This material is non-porous, therefore no liquids, no mould and no bacteria can penetrate it. Engineered quartz does not require regular sealing. Although quartz is scratch-resistant, abrasive brushes should be avoided. Certain cleaners and chemicals can damage or discolor quartz surfaces. It is advisable to avoid engineered quartz contact with drain cleaners, oven cleaners, paint strippers, solvents, acetone, nail polish removers and acidic cleaners.
---