If you cast a glance at an exotic gemstone slab, you will suddenly remember the Alibaba fairy tale about the great treasures hidden behind the Sesame Doors, especially the heavy trunks loaded with precious stones. Indeed, exotic stone slabs look like huge slices of multi-coloured gemstone cakes. Some of those slices are cut as one-piece from giant gemstone blocks. Others are made up of smaller gemstones of the same kind fitted side by side and glued together with a special glaze. When such a block is cut, the facets sliced in halves open up to show their magic inside layers. Such slabs often remind of frozen kaleidoscopic pictures. 
Gemstone slabs can be opaque, transparent or partly transparent, depending on individual precious and semi-precious stones comprising them. When backlit by natural or artificial light sources, gemstone walls and counters reveal their spellbinding beauty. Just imagine fine-polished slabs of blue agate, purple amethyst, pink quartzite that are more than 3 m long and 1,5 m wide. Opaque red jasper, green amazonite, golden tiger's eye slabs look nonetheless dramatic. Exotic fossilized rock or fossilized wood also belong in this class. Whatever the origin, each gemstone slab is a natural masterpiece of its own.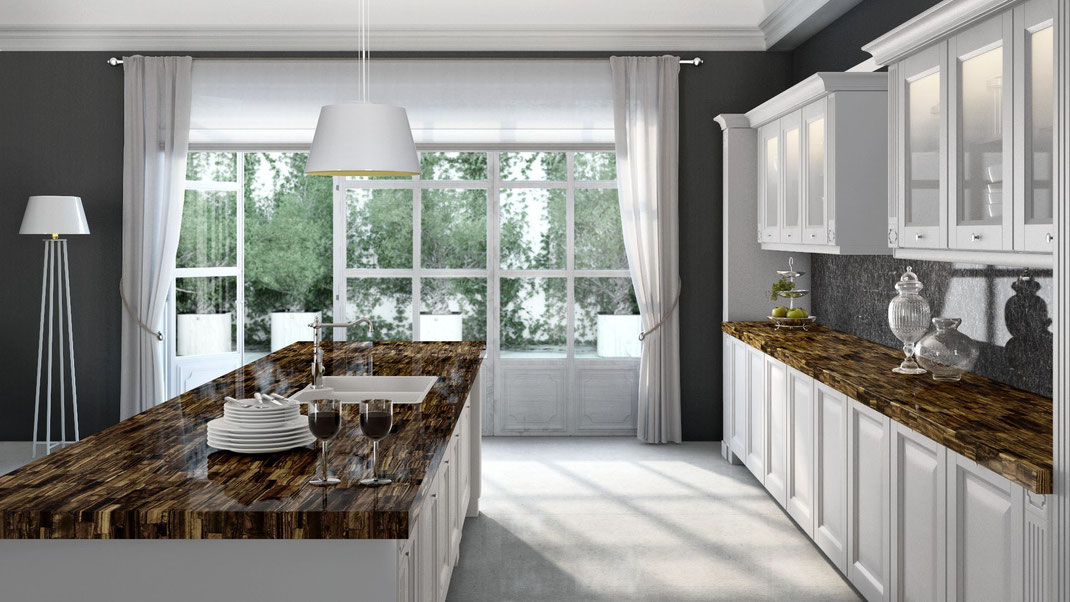 ---
Apart from their fairytale beauty, one of the most attractive aesthetic properties of gemstone slabs is their ability to transmit light. Translucent gemstone walls mysteriously glow when backlit by natural light. Where little or no natural light is available, artificial light sources are often installed to enhance this inherent feature. When combined with hidden strips of LED lights, gemstone countertops and bars light up like Christmas decorations. Exotic slabs are approximately 3-4 cm thick, and most of them reach 3 m X 1,5 m in size. The transparency of a particular slab depends on its thickness and composition.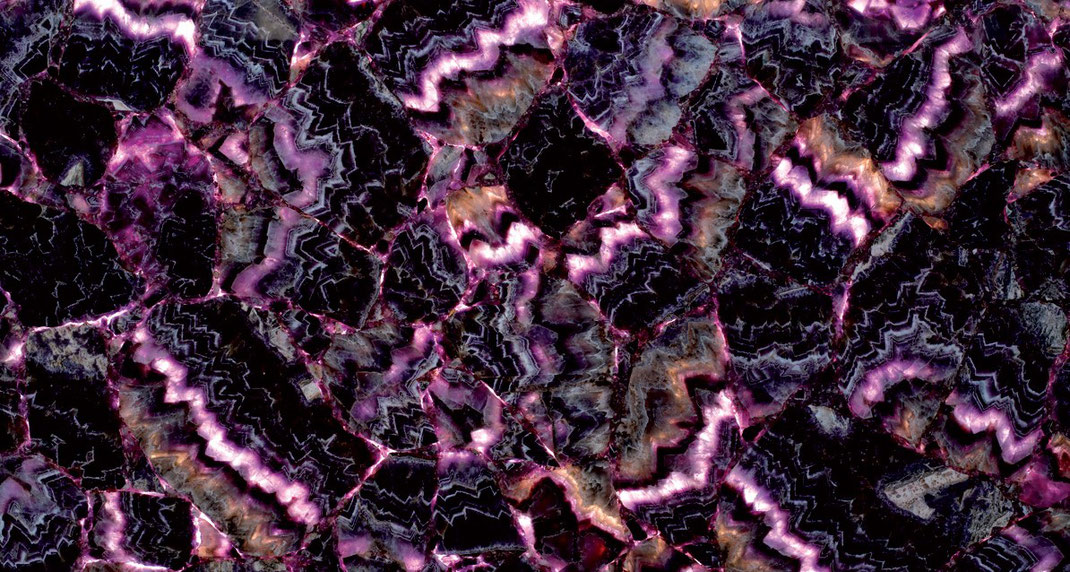 Gemstone transparency and luxurious patterns are the main reasons why designers choose them for some of their high demanding projects. Precious slabs can be creatively used to make decorative walls and partitions, they are desirable for fabricating glamorous furniture of unique design. Gemstone looks great in luxury nightclubs and restaurants. You may see gemstone counters, bars, walls and washbasins in casinos. When used moderately, precious stone details look great in many interiors. They can be combined with wood, concrete, steel or glass to give modern spaces an unusual touch. A narrow strip of translucent gemstone installed in a minimalistic bathroom wall as a natural source of light will look amazing.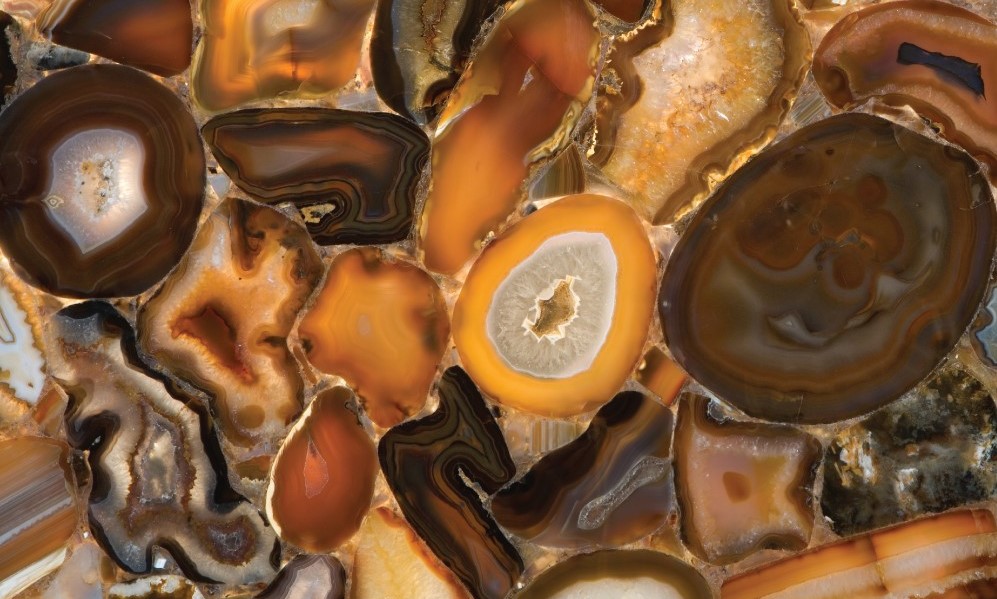 Sensitive and fragile, gemstone slabs do not like changes in temperatures and can therefore only be used indoors. They tend to be much more susceptible to environmental factors than marble or granite. They scratch quickly and need to be handled more carefully than other decorative stones. Precious slab properties largely depend on particular gemstones composing them. Gemstones are not used in the exterior. Usually gemstone slabs are very expensive, and not every stone fabricator will want to work with them. Those who will are likely to charge more for fabricating items from gemstone than from granite or marble.
---
---
Accidental minerals and impurities in gemstones give them different shades. Often the varieties of gemstones that have almost identical composition have different names. For example, clear quartz is called rock crystal, violet quartz is called amethyst, yellow quartz is called citrine, smoky quartz is called marion, and green quartz is called prazem. Agates can be white, yellow, brown, red or black. Tiger's eyes, cat's eyes and falcon's eyes are also minerals of the quartz group.  Sometimes one colour in stones shifts imperceptibly into another, and the two ends of the slab look like two different stones.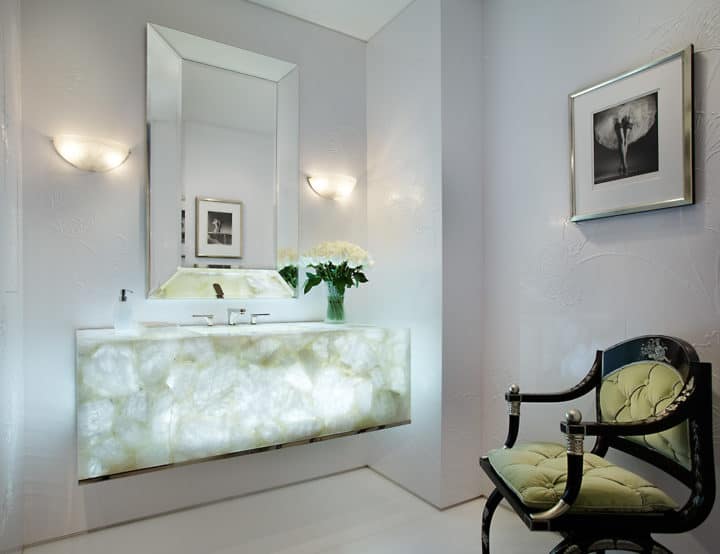 The scientist Alexander Fersman (1883–1945) categorised precious and semi-precious stones into groups based on colour:
Clear and white (transparent and opaque) - diamond, crystal, chalcedony, agate
Blue - aquamarine, topaz, sapphire, turquoise, chrysocolla, fluorite, lazurite
Purple and pink - amethyst, rhodonite
Red - ruby, spinel, hyacinth, rubellite, garnet, carnelian
Green - emerald, chrysoberyl (alexandrite), malachite, jade, amazonite
Yellow - zircon, phenakite, avantiurine
Speckled - tourmaline, jasper, feldspars
Black - obsidian, black tourmaline, smoky quartz
Colour-changing - precious opal, moonstone, sunstone, cat's eye, falcon's eye, tiger's eye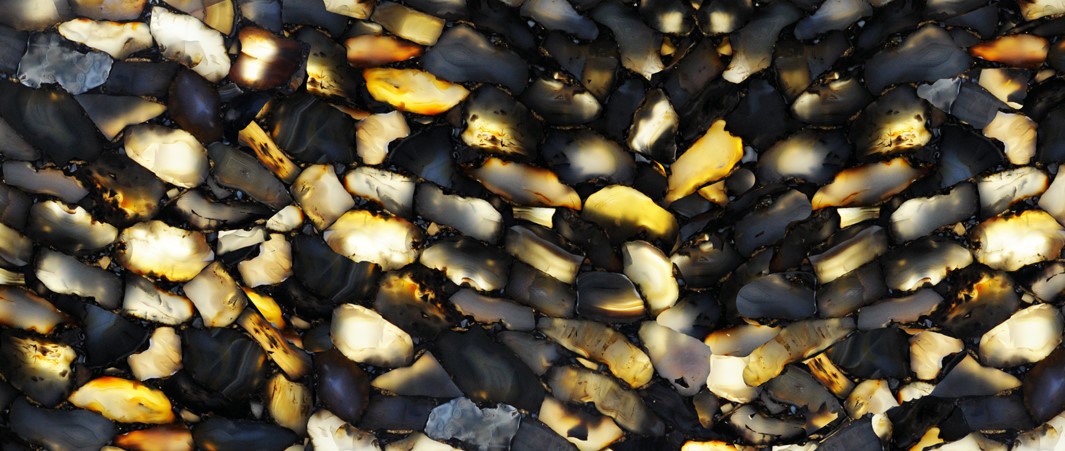 ---
Many precious and semi precious stones are found in Sri Lanka, which is known as the treasure trove of the Indian Ocean. The island is rich in garnets, zircons, tourmalines, beryl, topaz and quartz. The country's mining industry is concentrated in Ratanpura, known as the city of gems. Sun and moon stones as well as aquamarines come from India. Afghanistan is famous for lazurites, Australia is known for opals, Myanmar is proud for its jade. Tanzania and Kenya are rich in tanzanite. Many gemstone slabs come to Europe from the Middle East, North Africa and China.
---
Luxurious
Noble colour palette
Fragile
Not resistant to heat and fire
Not resistant to environmental factors (acids, etching)
Not scratch resistant
Not resistant to temperature changes
Suitable for interior decoration
Hardness by Mohs Scale - 3-4
Need sealing every 12 months
Expensive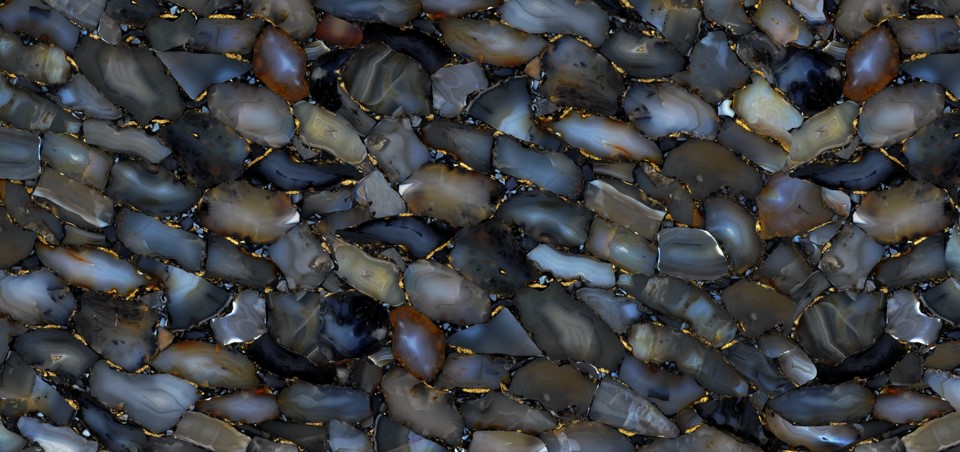 ---
Decorative walls and partition walls
Living room countertops and furniture surfaces
Kitchen worktops
Bathroom vanities
Window sills
Interior accents
Fireplace decoration
Stairs
Flooring
Walls 
SPA elements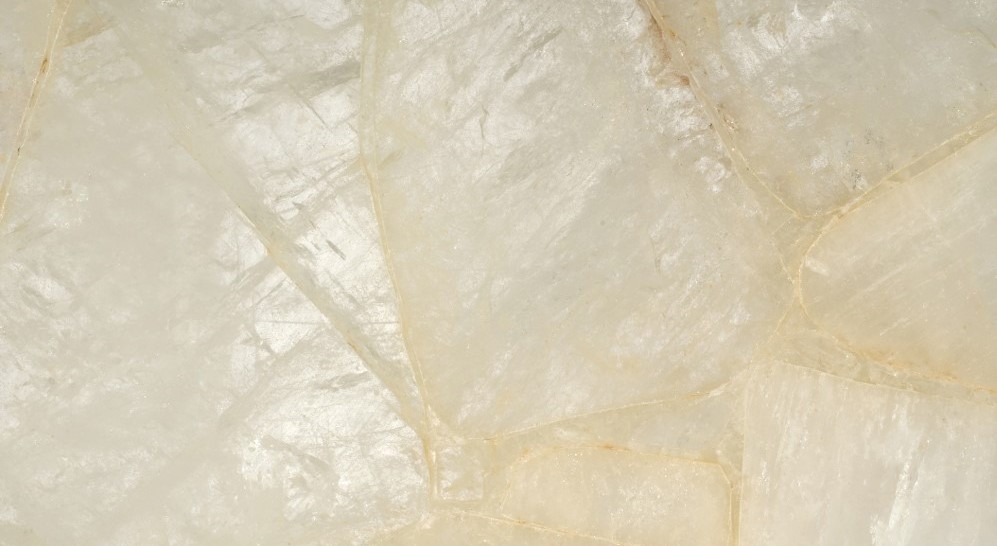 ---
Gemstone countertops scratch and chip easily. Therefore such worktops are only suitable for those kitchen areas that are little used. Gemstone surfaces need to be cleaned very gently. No acidic cleaners should be applied, only mild soap or pH-neutral soap can be used. The best cleaning option is a special gemstone cleaner. Gemstone surfaces have little tolerance for liquids, moisture left on them can result in stains. Stained gemstone worktops can only be cleaned with a soft brush, as any abrasive devices will scratch them. It is necessary to wipe the surface dry with a clean cloth. Gemstone surfaces should be sealed at least twice a year with special stone sealants. Apply a small amount of the sealer to a dry cloth, rub it into the stone and let it sit for a few minutes. Then rub the stone with a new dry cloth for a few minutes. If possible, let the surface dry for 6 hours to allow the sealer to soak in. Stone sealers help to protect gemstone surfaces from stains and acid etching.
---