Wide-format and high quality porcelain and ceramic slabs are increasingly used for kitchen countertops, wall cladding and dramatic interior decoration. Why? Because they look stunning and their patterns incredibly resemble those of natural stones. These materials are much lighter, slabs are thinner, and the price per square meter is lower than that of the majority highly priced stones. Just check out some amazing porcelain and ceramic examples: 
Porcelain is relatively flexible when compared to natural stone (and therefore less brittle). This material is resistant to UV rays, chemicals, wearing, fire, cold. It is friendly to environment and recyclable. Porcelain and ceramic slab patterns are usually visible just on the surface while the cut is even-coloured (the surface pattern does not run through the entire volume as in natural stones or in engineered quartz). In some slabs, patterns are visible throughout entire thickness. Some wide-format porcelain pieces replicating marble, onyx or granite look stunning in their realistic 3D appearance.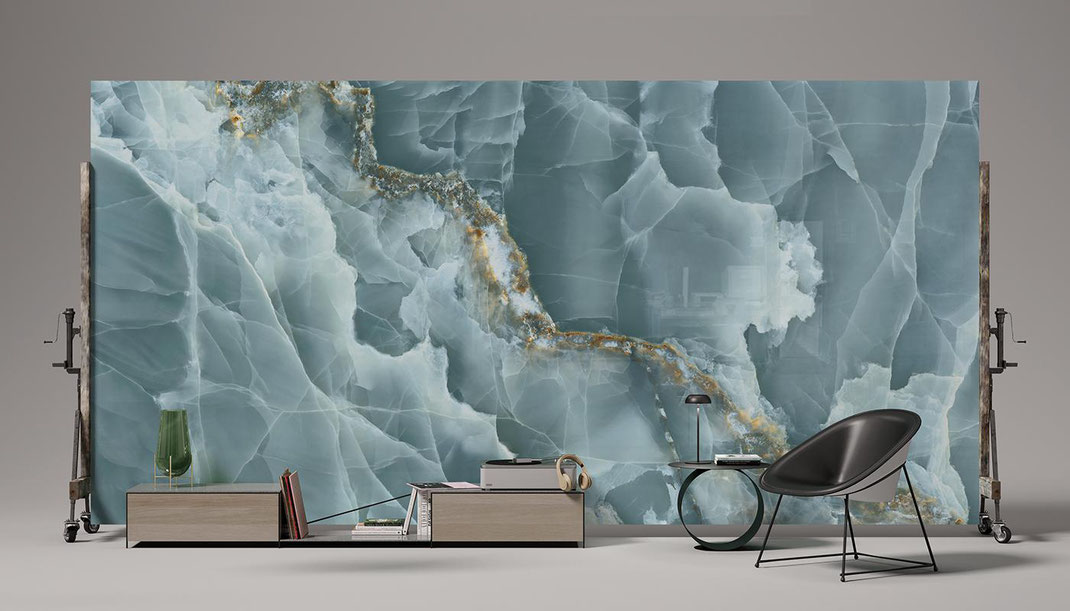 ---
Ceramic and porcelain slabs are more elastic than natural stone. This relative flexibility makes them easy to cut and work with as they do not chip or crack that easily. Porcelain can be shaped into thin and large panels which are ideal for cladding walls or laying floors. Ceramic materials are particularly desirable in multi-leveled buildings and other locations where natural stone slabs would be too heavy and chunky. Light and thin ceramic slabs are easy to transport. A mesh is often glued to the underside (wrong side) of the slabs to make them stronger and more shock resistant.
According to technical specifications, ceramic and porcelain countertops are resistant to heat up to 200 °C, but given the fact that during their manufacturing ceramic slabs are heated at around 1200 °C, their heat resistance can be higher. Ceramics is durable and requires little care. Ceramic worktops, floors and walls do not change their appearance even if the room is used intensively for many years.
Ceramic and porcelain worktops do not need to be sealed as their surface is not porous. Liquids spilled on them will not stain them. It will be sufficient to clean the spill with a damp cloth. Light and hygienic ceramic surfaces are ideal for kitchen worktops and bathrooms. 
Because ceramic surfaces are resistant to weathering and staining, they can be used where most natural stone types are less suitable. They can be used to pave areas around swimming pools, to decorate outdoor bars and to cover table tops in the open air. Ceramics is resistant to chemicals and fading, and has good scratch tolerance. However, glazed surfaces can be scratched with ceramic knives. 
Thin ceramic slabs reveal their strength and durability when they are fixed to something solid, such as a piece of furniture, floor or walls. If the base is flexible or not leveled, there is a risk of panels to crack under pressure and bending. Ceramic panels can be as thin as 3-6 mm, though the standard thickness is 12 mm. Thinnest panels are used for making cupboard doors, fireplace surrounds, interior and exterior wall cladding. 
---
---
Ceramic and porcelain slabs are composed from carefully selected clay and slate powder. Porcelain slabs are made from a special clay containing the mineral kaolinite, silica, feldspars and other oxides. These materials contribute to the strength and durability of porcelain. The fine compacted mixture is placed in a kiln and fired at extremely high temperatures, gradually increasing from around 200 degrees to 1 200 degrees. The baked slab is then gradually cooled. The result of this process is a durable material that is almost completely resistant to stains, heat, UV rays, scratches, chips and cracks.
The high-quality print is usually added to the surface at the end of the process, but other techniques can also be used. The higher the quality of the print, the more slab will resemble the real stone it tries to mimic, and the more spectacular it will be. Some high-tech slabs are almost impossible to distinguish from real stones. After manufacturing, ceramic panels are coated with matt or glossy finish. The glaze reduces porosity (and the risk of staining), increases resistance and creates the desired aesthetic effect. Normally, the drawing will be only visible on the surface of the porcelain or ceramic slab. 
Manufacturers are using different technologies and constantly improving them, which is why ceramic tiles from different manufacturers differ. They also differ because of different raw materials used and other factors. For example, a slab produced from pure crushed quartz or marble dust at high heat and high pressure will be harder, stronger and more resistant than a slab baked from lime, sand or clay particles at lower temperatures and lower pressure.
Full-bodied ceramic and porcelain slabs are produced using even more advanced technologies. The primary mixture is merged with different sized grains resulting in a material that has texture of natural stone. Famous porcelain manufacturers generally have at least one collection of full-bodied slabs among their products. Slabs with textures visible throughout them are more expensive than slabs with even-coloured body. Despite the price, such panels are favoured by interior designers and architects.
---
Resistant to scratching
Resistant to UV rays
Waterproof
Stainproof
Easy to clean
Food safe and hygienic
Light
Can be used in high-traffic zones
Natural
Non-porous 
Doesn't need sealing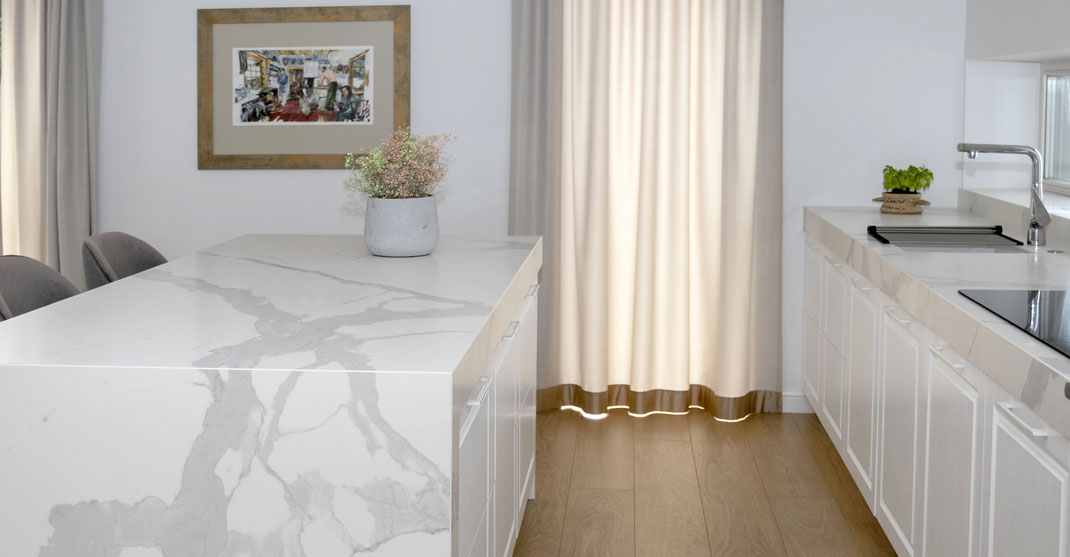 ---
Kitchen worktops
Bathroom vanities
Furniture facades
Wall cladding
Flooring
Stairs
Wall cladding
Swimming pool tiling
SPA and wet rooms
Window sills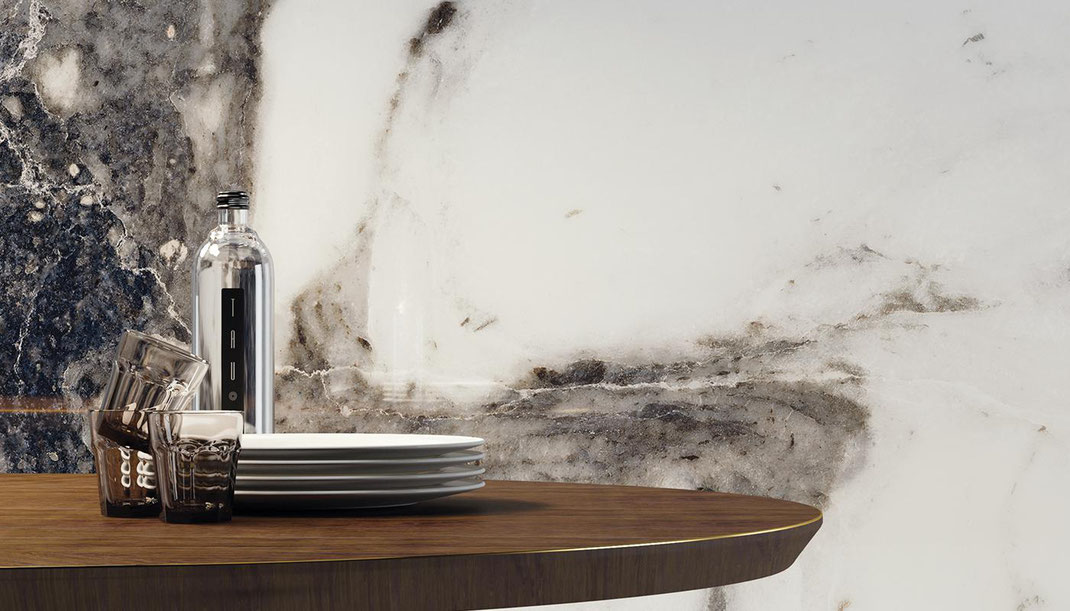 ---
Porcelain surfaces are non-porous and hygienic, no liquids can penetrate them. Grease and dirt can be easily removed from such worktops with dishwashing detergent or kitchen surface cleaner. Soap and water is good for quick cleaning, but continuous use of soap can cause soap residue on porcelain and ceramic surfaces. Spills and dirt are best cleaned up simply with hot water. Stronger cleaners can also be used to remove stubborn stains from porcelain worktops, but harsh and toxic chemicals should rather be avoided. A more thorough scrubbing with a worktop cleaner is usually sufficient.  
---
---
Sintered stone is manufactured from similar raw materials as ceramics and porcelain, but there are two key differences: the additional components and the pressure applied. Sintered stone also contains raw materials used to manufacture quartz and glass, which makes sintered surfaces stronger and more durable than porcelain. In addition, extreme pressure and temperature is used to compress and fuse the components together. The conditions in which sintered stone is manufactured resembles those deep inside the earth needed for rocks to be formed naturally. Today's high technologies simulate these processes and speed up the process. While it takes millions of years for the rock to form in the ground, modern technologies reduce the time to one or two days.
---
Ceramic and porcelain slabs are produced in a similar way, but the raw materials used are different. Porcelain is made from a special clay of very fine grain, whereas ceramics are made from other clays and may contain more constituent rocks. The differences are also influenced by the compression of the mixture in the press. Porcelain is more densely compressed than ceramics, which makes the porcelain slab even harder and stronger. Porcelain sheets are slightly flexible, resistant to UV-rays, chemicals, wear, fire and cold, they are environmentally friendly and easy to recycle. Porcelain can also be called ceramic, but not all ceramics is porcelain.