At the end of May, Baltic Stone consultants organized a seminar for architects from Heima architectural studio on natural and artificial stone materials. The team of young professionals, who have gained experience and knowledge working at architecture studios in Lithuania, Netherlands, Switzerland, Belgium and Spain, focus on architectural objects of various scales and purposes. Heima's professionals had the opportunity to hear about eight types of natural stone used in interiors, as well as famous manufacturers and brands of engineered countertop materials.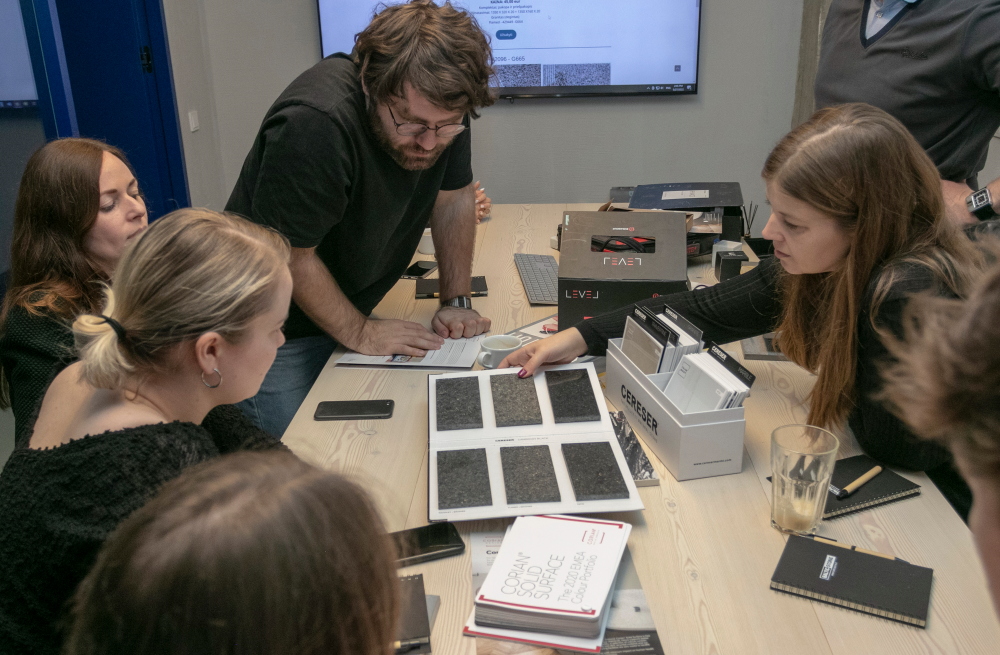 Heima's architects were interested in comparing the properties of natural stones and finding out how different stones are used in different environments. According to architect Povilas Daugis, the co-founder of Heima, it is of utmost importance to provide clients with projects that are not only modern and pleasing to the eye, but also functional. This means that each surface should be well thought out to fit the intended use of the object, as well as look great in its place. Heima's main projects are residential and public buildings, individual interiors and large urban complexes. We used Cereser's natural stone palette for comparisons.
Just as it is important for Heima's architects to start each new project with a thorough analysis of its context and the client's needs, so the team constantly analyses the differences and technical possibilities of modern artificial materials. The high-tech, innovative surfaces are not only beautiful but also practical: they are durable, stain- and scratch-resistant, easy to clean and maintain. The final products fabricated from them retain their aesthetic qualities for years. Heima's conference table was loaded with four different types of artificial stone samples, each awaiting its turn and attention.
Engineered quartz, which is closest in texture and composition to natural stone, received a lot of praise from the architects. Artificial quartz is harder, more elastic and shock-resistant than natural stone, and its colour palette is almost immense. However, colours and patterns are only an addition to the excellent intrinsic properties of this material whose famous brands include Silestone and Radianz. For Povilas Žakauskas, architect and partner at Heima Studio, it is important to create interiors with lasting value and not to follow short-term fashion trends. Heima's projects focus on ergonomics, comfort and the ever-changing needs of modern society. Of course, aesthetics is very important.
Other types of countertop materials, such as porcelain, ceramics and sintered stone, also generated a long discussion. Thin ceramic slabs, being just 6-12 mm thick, are convenient for cladding walls, floors and fireplaces. Thicker slabs of 12-20 mm are commonly used for worktops. The versatility and convenience of these materials are superior to natural stone in everyday use. The hardest type of artificial stone is the sintered stone. This unique material, whose popular brands include Neolith, Dekton and Lapitec, is produced by few companies, as the process requires sophisticated technologies that replicate the conditions of the earth's interior. Extreme heat and extreme pressure makes the raw materials fuse together into a new natural material that is hard and resistant to environmental impacts.
Finally, the focus turned to acrylic stone, also known as solid surface or cast stone. Corian, Meganite, Staron solid surface brands are popular in Lithuania, but there are others, too. Acrylic stone differs a lot from quartz, ceramic and sintered stone. It is softer, less scratch-resistant and becomes flexible at high temperatures. The latter feature makes it possible for fabricators to form acrylic sinks and non-standard surfaces of any shape. The sink is integrated into the solid surface worktop without visible seams, giving the whole piece a seamless appearance. Acrylic stone worktops have no gaps for dirt to accumulate and thus are very practical in kitchens and bathrooms. The material has the necessary hygiene certificates and can be used in restaurants, medical institutions, hotels.
To produce countertops and any other functional or decorative items from natural stone, there are stone fabricators located in various Lithuanian cities. Most of them also work with different types of artificial stone materials. It is easy to find stone working companies on the interactive Map of Lithuanian Stone Fabricators.